Improved version per Edward's suggestions Here are 6 videos of Dawn Pro bubbles changing colour as they are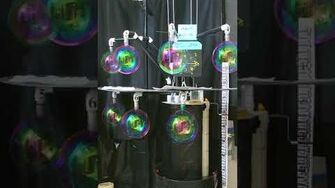 inflated. For each video all 7 bubbles are the same mix. The purpose is to identify the bubble size which is most representative of in vivo bubbles made with a tri-string loop. The position indicator on the right gives a measure of the bubble volumes (12 cm on the scale is equivalent to 1 litre of volume). I'm no expert on colours so I'm looking for advice.
The 6 mixes are all Dawn Pro/distilled water. pH was adjusted with HCl.
1) 40:1, pH not adjusted
2) 40:1, pH 7.6
3) 20:1, pH not adjusted
5) 20:1, pH 7.6
6) 12:1, pH not adjusted
7) 12:1, pH 7.6
I've let each video run until the last bubble burst, to give an idea of reproducibility. If you do the statistics (mean, standard deviation, standard error) you'll find that 5 to 7 repeats should yield fairly robust data.
Community content is available under
CC-BY-SA
unless otherwise noted.