__
Original post
As I was looking into HEC bubble-jiuce, I've noticed , that HEC Tylose H 200000 YP2 (PDF) was the one with the biggest viscosity. At the same time, that HEC is produced by a Germany company in Europe and since I'm located in Europe, I had to use european substitutes instead of the ones used in US.
After a bit of investigation, I found out that the only distributor of their products in Denmark is as follows:
Abildgårdsparken 8B
DK-3460 Birkerød
DENMARK
Phone: +45 45 99 95 20
Fax: +45 45 99 95 30
Email: info@jennow.dk
They've got more offices in other countries, have a look at their contact page .
Contact info:
Klaus Mikkelsen
Email: klaus@jennow.dk
Phone: +45 45 99 95 38
or
Lene Bisgaard 
Email: lb@jennow.dk
Phone: +45 45 99 95 23

I've talked to them today (23rd Aug 2013), explained why I needed HEC and they promised to get back to me. They couldn't promise anything tho', as they usualy sell this stuff to other companies and they didn't had that exact product on the shelve. They could see my problem tho', as they are the one and only distrubutor of SE Tylose products in Denmark and I had noone else to go to.
Update #1
The company called me back with some bad news - they couldn't help me with such (relatively) small amount. The producent has a strict set of rules where they have to know the purpose of use, how much product is needed and how was the product used in the end. The distributor don't want so much trouble for such low amount, so I guess I'm on my own and I have to get the needed product from outside of my country.
Update #2
I couldn't live with the fact that the only HEC I could get my hands on was Natrosol which isn't quite as powerful as Tylose, so I went to the manufactor's website once more. It seems like their website got a facelift and finally I found a page with contact info for different countries.
Therefor I called to the dealer for the Nordics - phone answer, mobile is dead. Then I've called the UK dealer - they would get the Nordic dealer to contact me. After that I've called the main office in Germany. I've got to talk to a person there (Peter K.) which asked me to send an e-mail to him with more info on the subject. This is done and now I'm waiting for some feedback from them!
PS: I called Peter back and confirmed, that he did recieved my mail and that he sent it further to one of the technicians. I was informed, that I should recieve a sample withing a week. If not, I should call Peter back.
PPS: The technician mailed me back asking for my address. He said he'll send me 1kg as a sample. YES!
Update #3
Guess what I got home! Yay!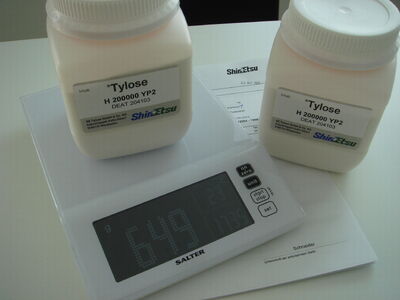 Community content is available under
CC-BY-SA
unless otherwise noted.