As I try to find simple indoor methods for people to study the thickness of their soap films and strength of their detergents and surfactant mixes, I am playing with a lot of setups -- trying to find simple equipment that yields similar
color profiles
to the ones that I get with my tri-strings (which are so reliable and consistent). There have been some surprises along the way -- such as bubbles being thicker when created by sweeping a hoop from low to high to create a bubble as compared to when sweeping the hoop horizontally.
After exploring various hoops and small tri-strings and the longevity setup (all of which work) I have been finding simple small plastic wands  -- the ones that come in 6 or 8 ounces bottles of bubble juice -- to be very effective. With a little practice, one can reliably blow a 4 to 6 inch (10-15 cm) bubble and observe its colors -- and even compare the colors at different sizes of bubble.
One of the problems is that I want to test a number of solutions in a session but I don't have enough of my trusty yellow small wands as I'd like (in order to avoid having to wash and dry wands when switching between solutions). I have found that 8-inch zip ties work great. The little ridges hold a little bit of juice (enough for the needs of these tests) and it is trivially easy to make identical matching wands -- that work great. That is what I am using in the videos on this page.
A couple of days ago, I was sitting next to a window practicing my bubble blowing technique and noticed that while the colors of the bubble were largely lost because of the light colored wall that there were some bright spots where the window was reflected where the colors were blindingly bright and vivid.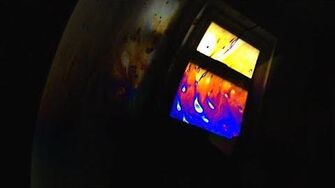 This first video is just fun and trippy and super-psychedelic -- without any special effects. The juice is a 20:1 Dawn Pro-based. The bubble is being blown next to a frosted window during the day. At some point, I adjusted the camera's exposure so that the interesting part of the bubble wasn't overexposed. It makes the room seem a lot darker than it was -- it is just that the colors were so bright that they over-saturated at normal exposure.
This particular setup gave me an idea for a simple lighting setup that might be useful for a more serious examination of color profiles. So, I put a couple of very bright LED shop lights in an empty bathtub and hung a thin milky, plastic painter's tarp on the shower rod. I put a piece of black foam core at right angles to the shower curtain, and set up the tripod and blew 4-inch bubbles with my zip tie wand with a 40:1 Dawn Pro solution and some Mr. Bubbles. I ran several iterations and the results were consistent. The bubbles in both videos lasted until the top part of the bubble is so thin (the famous "black film") that doesn't reflect light at all.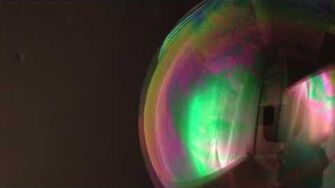 The 40:1 bubble starts off dominated by the greens and pinks associated with thick soap films. As you'd expect, this bubble lasts much longer than the Mr. Bubbles bubble due to its much thicker film.
Mr. Bubbles starts off with the full gamut of killers, including the flecks of white and black that indicate a very thin soap film.
Community content is available under
CC-BY-SA
unless otherwise noted.