I shouldn't draw too many conculsions from a single session. But it is looking like HEC-based juice can get results every bit as good as the Bangwool juice that was such such an eye-opener this past fall. This morning there were almost ideal conditions and the HEC juice was the clear winner in a shootout. The bubbles were easier to close, lasted longer and were just as colorful. The Bangwool juice has one really nice characteristic: almost ghostless popping but not that super-cool disappearing into fine mist that Hisao Oono's mix does.
I will try to get some video posted soon.
Conditions: 48-50F. Humidity: 85-90% RH. Overcast. Very slight breeze.
VIDEO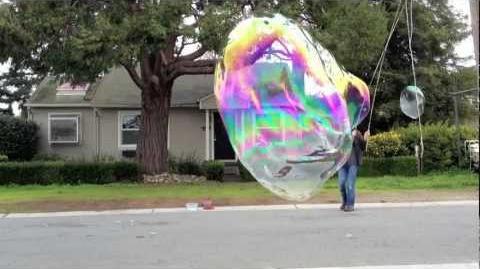 RECIPE - CONCENTRATE
This recipe is still under development. So, it isn't yet listed on the recipes page. This recipe is for a concentrate that when diluted 3:1 (water:concentrate) yields about 21:1 water:detergent. With about 2.3 grams HEC per liter of water. When using less detergent, the bubbles have not worked out as well as with detergent in this range.
16 grams HEC (QP100MH or Natrosol 250HHR -- if using a lower viscosity type, you might need slightly more HEC)
1474 gr (52 oz (wt)) water
340 grams (12 oz) (wt)) Dawn Pro
At 3:1 water:concentrate,there is a 20.6:1 water:detergent ratio and  2.28 gramsHEC/liter water. [16 grams HEC / (1474 grams water + 5526 grams water)]
DILUTION
Dilute with 3 parts water to which (very important) citric acid has been added. Add about 1 gram of citric acid per 456 grams (16 dry ounces) concentrate.
FOLLOW-UPS
(Feb. 5, 2013) I have been using this recipe a lot this past month and am consistently getting long-lasting super giants. For huge bubbles, this mix seems to be working better than any other recipe with nice rich colors. I need to do more side-by-side comparisons with the basic 16:1 mix, though.
Community content is available under
CC-BY-SA
unless otherwise noted.