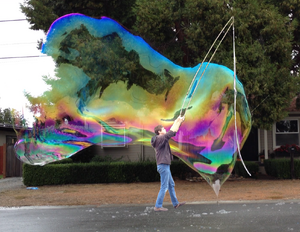 A year or two ago, I had a lot of fun making bubbles with
HEC-based recipes
. Despite what many people had said, I found a good HEC mix could create giant bubbles on a part with PEO-based mixes. Surprisingly, I found (as did a few others) that under some mysterious conditions, HEC-based mixes could work considerably better than PEO-based mixes. There have been several times when, despite conditions looking good on paper, my best PEO juice could not make a bubble, but an HEC juice worked well. I have wondered if this is possibly related to charged particles in the air such as some kinds of pollen that have a particular polarity. Perhaps, HEC and PEO juice have different sensitivities based on particle ionization (but maybe not).
I spent a lot of time over a couple of months with HEC and created lots of gorgeous bubbles, but then I took a break from bubble-making (work and life called). When I began bubbling again, I was interested in exploring certain aspects of PEO mixes and happenned upon guar-based mixes.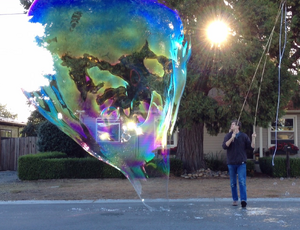 Until recently (maybe mid-September 2012), I have only rarely tried really large loops -- by really large, I mean loops whose top-string is 90" (230cm) or larger. In the past, I have tried them occasionally but had a lot of trouble closing bubbles. Over the summer, I spent a lot of time with 70-80" top-strings, and they stopped feeling unwieldy. I decided it was time to step up to larger sizes.
Since that time, I have tried to get out -- even if only for 10 or 15 minutes -- several times a week with 100" top-strings (254cm) in order to get used to how they feel and generally improve my comfort level with them. During these explorations I have explored various top/bottom string combinations since I feel (at least for freefloating bubbles) that composite loops where there is a high-capacity top-string and lighter-weight bottom work much better than loops that have the same capacity material all the way around.
I have been very pleased with the bubbles that I have created. My eyes were really opened when I tried the Bangwool commercially-produced bubble juice that a friend had gifted me. I had created enormous bubbles much larger than anything that I had created before. The conditions that more morning were particularly good (cool with 90+% humidity. The Bangwool mix was also very very viscous and had a feel quite different from either the PEO-based or guar-based mixes that I have mostly been using.
So, I decided to spend a little time exploring mixes that 'feel' a bit more like the Bangwool juice. I wondered how my HEC recipe with work under really nice conditions with a big loop.
I have been very pleased. I have only done a few sessions, but these have produced some of the biggest bubbles that I have ever made.
Photos and Composites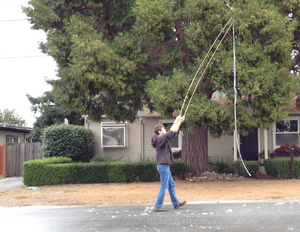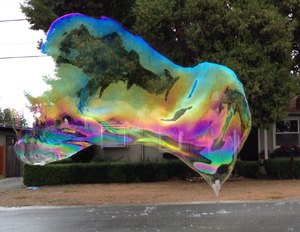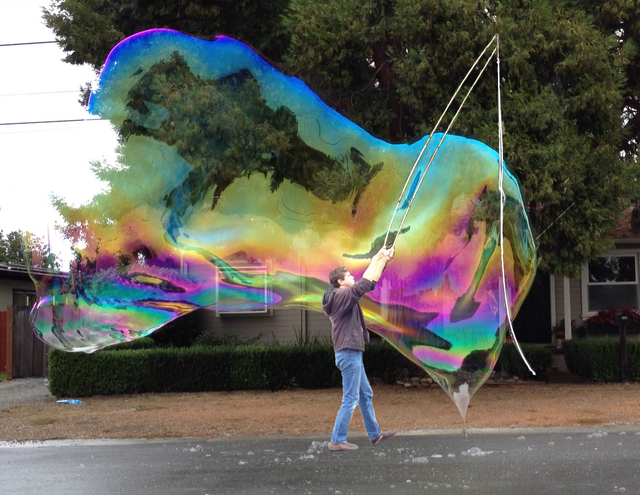 Video of the bubble shown above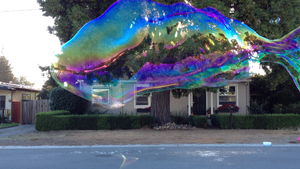 Videos of Some of October's Giant HEC Bubbles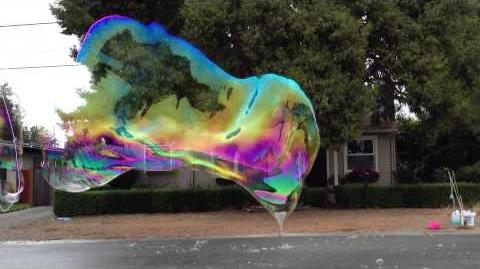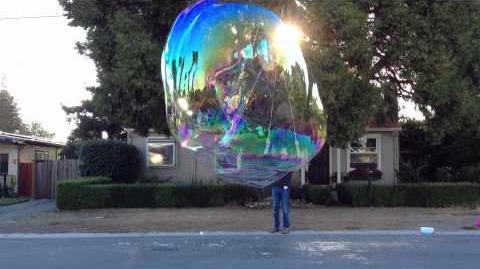 Community content is available under
CC-BY-SA
unless otherwise noted.