There are several ways of making tri-string loops. This page details a few. If you use a different design, please add an image of your design.
(This page is under development and will be expanded as time permits.)
Some basic loop styles:
Loops that attach directly to the handles with no attachment points of leads. Dip Stix and Bubble Thing are examples of such loops.
Loops with split rings ((or other attachment loops) integrated directly into the loop. These loops get clipped on to a wand's leads.
Loops with leads attached to the loop with split rings (or other attachment loops) attached to the leads which then clip on to the wand's leads.
For information about loop materials see Wicks. For more information about setting up tri-string wands see the Rigging category.
Single-String
Edit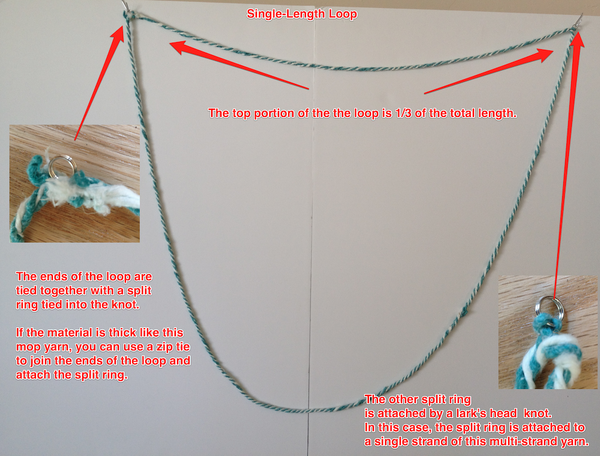 Double-String
Edit
This is probably the most common design. The loop is made of a top-string that is roughly one-half the length of the bottom string. The top and bottom strings can be tied together or zip-tied together. Zip ties work just as well as knots but may not work well with very thin loop materials such as single strands of yarn or thin twine.
In the picture below, the attachment loops (split rings in this case) are tied to small leads that are attached to the loop. But you can have the split rings tied directly to the loop.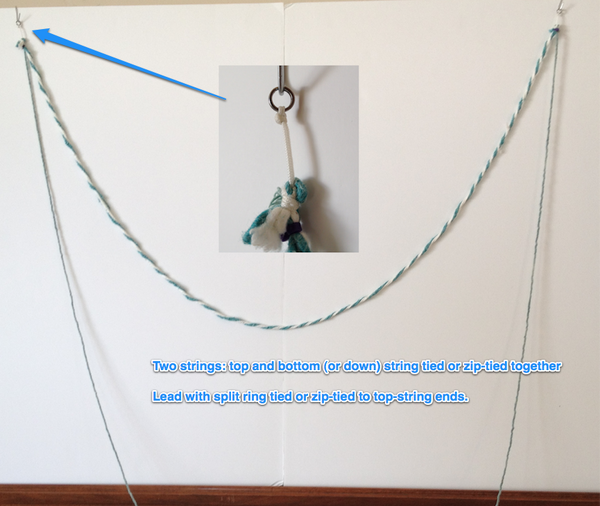 Three-String
Edit
Modular loops
are just top and bottom strings with split rings (or other  attachment loop) at either end. They can be clipped onto the wand leads indepedently which makes it possible to mix-and-match top and bottom strings in the field.
Community content is available under
CC-BY-SA
unless otherwise noted.