by Rick Findley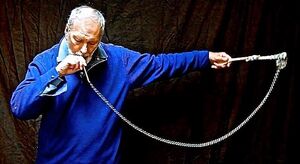 String of Pearls is a bubble trick which uses an easy-to-make bubble "pipe" to create a long chain of bubbles. Once you have your bubble pipe, it takes a bit of practice and the right bubble juice to be able to do this at will.
The Technique
Edit
There is competition between the two sides of the pipe for which bubble will be the first to exit. You need to help guide the first bubble out of the pipe (see the Tip below). Once you have guided the first bubble out, the rest of the bubbles will flow one after the other to make the chain.
TIP! One finger will be used to guide the first bubble out of the pipe. Get this finger wet with bubble juice. Twitch the pipe when getting the string-of-pearls started so that the guiding fingertip (or bubble stick) is touching only one bubble (instead of both bubbles that are trying to emerge); otherwise the bubbles will just form a clump.  Blow slow, soft and steady. Also, I do not know why but it helps greatly if you focus your attention on the tip of the pipe while you blow (not on the bubbles).
String-of-Pearls works best with a soap and glycerine heavy mix that you probably would not choose to use for many other tricks. Here are two simple recipes:
Rick's preferred recipe: 1 part detergent (Dawn Pro or similar), 3/4 part water, 1/2 part glycerine
Philip Noble's recipe:  1 part water, 1 part detergent (Dawn Pro, Fairy or similar), 1 part glycerine
How to Photos
Edit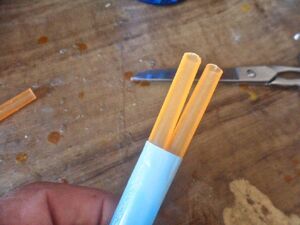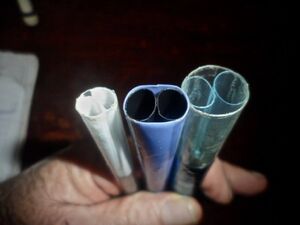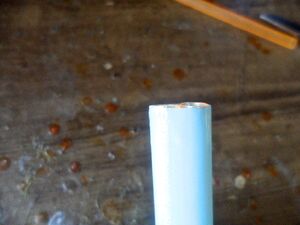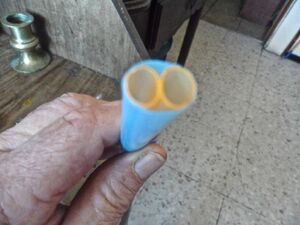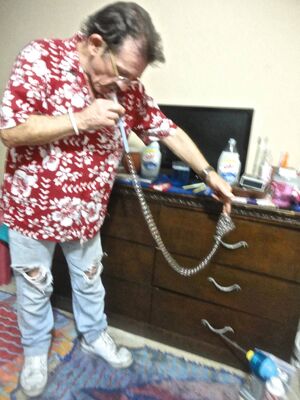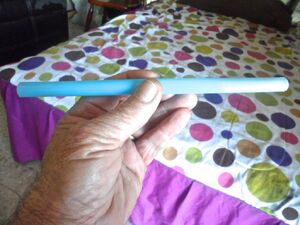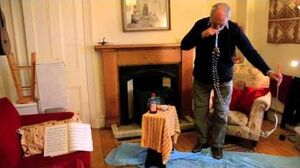 Community content is available under
CC-BY-SA
unless otherwise noted.