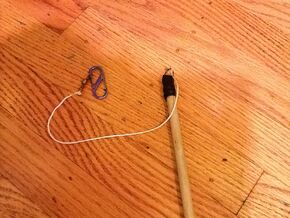 This article provides tips for rigging loops for tri-string style bubble wands.
There are many ways to create, tie, attach and secure the loops for tri-string wands. This page provides tips and techniques that you may find helpful.
Currently, this article is in rough form but the information may be useful nonetheless.
Two knots have been frequently mentioned as being useful for tying the ends of a loop together. They are both easy to tie and are not bulky.
Attachment Points
Edit
Brian Lawrence describes an elegant method for rigging a tri-string loop using one knot, two split rings (something like a double-thick jump ring) in this SBF posting. He has also posted a great tip for rigging the leads from the wand to the attachment points.
See also
Edit
Rigging Category
Community content is available under
CC-BY-SA
unless otherwise noted.