This recipe comes from Mr. Hisao Oono of Japan, who creates some of the most amazing bubbles that I have seen. His recipe creates giant bubbles that burst into a cloud of vapor. This recipe requires the particular detergent that Mr. Oono favors. Unfortunately, this detergent seems not to be exported outside of Japan.
So far, we have found no detergent that you can successfully substitute.
The original recipe is published on Mr. Oono's blog See his blog for pictures of the ingredient bottles.
Ingredients
Edit
800 ml. water.
200 ml. PVA (polyvinyl alcohol-containing) Japanese laundry starch. Make sure the the starch does not contain any defoaming agents. Mr. Oono suggest that this can be found in '100 yen' shops. See the article about Japanese PVA Laundry Starch for more information about this ingredient.
100 ml. Charmy "The Power of Suds" dishwashing liquid. (NOTE: we have been unsuccessful in replicating Mr. Oono's success with the standard European or American dishwashing liquids which are based on different surfactants than Charmy). See the article about Charmy for more information and notes about the recommended version.
50 ml. glycerine.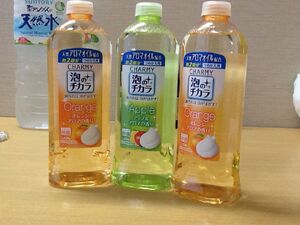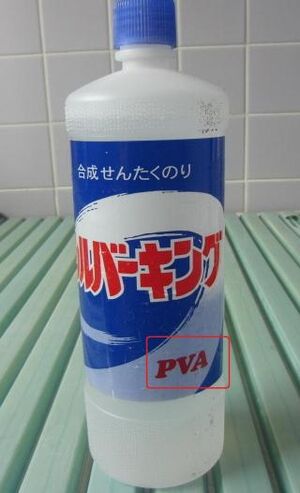 Mixing Instructions
Edit
Add 800 ml. to your mixing vessel or bucket
Pour 200 ml. PVA-based starch into the bucket and stir till thoroughly mixed
Add 50 ml. glycerine and stir.
Stir until ingredients well-mixed and uniform.
Add 100 m. Charmy dishwashing liquid.
Stir gently to thoroughly mix.
Community content is available under
CC-BY-SA
unless otherwise noted.