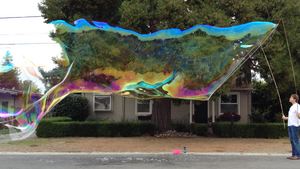 First brewed on 2012 11 01. This is an HEC-based mix with a little bit of PEO. I developed this recipe after I had a really great session where I added a bit of eGoo dregs to the last bit of HEC-juice that I was testing one day (2012/10/30). This mix was my best guess as to what might have been in the ad hoc mix that worked so well on 2012/10/30.
This makes nice long tubes and can make super giants as well.
The amounts were chosen based on the capacity of the jugs that I use. They are nominally 1 gallon jugs but hold a bit more.
The water:detergent ratios is 20.3:1. 20:1-21:1 seems to work well for HEC-based mixes. The higher-dilutions that I like with PEO and guar-based juice do not seem to work as well with HEC.
I also refer to this mix as HECWSR since I usually make it with WSR301. But you can use J-Lube just as well.
Equipment (used in photos): Modular loop with 100" Rubbermaid Webfoot Microfiber top-string and a bottom-string (210"-220" long) made from a single strand of deconstructed Rubbermaid rayon mop yarn. See Mop Heads.
Polymer powder mix:

0.42 grams "degraded" WSR301. With potent WSR301, use 1/4 to 1/3 this amount.
7 grams Natrosol 250HR

3650 grams water measured into a 1 gallon jug that will store the juice
4 grams baking soda
180 grams Dawn Pro
2 grams citric acid
J-Lube substitution. If using J-Lube, use 4 times the amount specified (1.7 grams of 'degraded' j-lube or 0.4 - 0.6 grams of potent J-Lube).
HEC substitution. If using a higher viscosity HEC such as Natrosol 250 HHR or Dow Cellosize QP100MH, use a little less than specified. My guess 6 grams.
Preparation
pour 300 grams water (from jug) into a 1 liter measuring cup
heat 500 grams water (from jug) in the microwave till quite hot (2 minutes or so)
Mixing
start stirring the 300 ml of room temp water and add the powder bit by bit, making sure that it is well-dispersed with no clumping. (You could add the powder to dry alcohol or glycerine or propylene glycol to make a slurry and add the slurry, too. The HEC works as an effective dispersent for the PEO; so, a slurry isn't necessary as long as you are using an HEC that is cold-water dispersible)
continue stirring and add the 500 grams hot water
add baking soda while continuing to stir
continue stirring for a couple of minutes. The mix should become quite viscous shortly after the baking soda is added
stir for 30 seconds every several minutes until the mixture is near room temperature.
NOTE! Even though the HEC may seem to have dissolved, it takes a while to fully hydrate. It may settle out into a gel layer if you do not periodically stir during the  20 to 30 minutes during which the water cools which is also the period during which the HEC hydrates.
add more water from the jug to fill the measuring cup
return the mixture to the jug.
Turn the jug end-over-end several times.
add the citric acid
Turn the jug end-over-end several times.
Community content is available under
CC-BY-SA
unless otherwise noted.