Submitted by LipLip1. This is a wiki member's variant of our Guar-based bubble juice. We recommend taking a look at our main recipe to learn more about guar gum and the variables that affect the quality of the juice
From LipLip1:
Hey all I am quite new to the bubble mania my girlfriend bought commercial brand here in Israel where we live they sell a mystery powder which they market as miracle powder for giant bubbles ( turned out to be some kind of peo lube powder.) and some sort of liquid mix which u add water and detergent also a peo based..
After testing all of the powders with many of the recipes I found here, I started testing guar based juice and got great results (photos and videos will be loaded soon).
This is a variant on the guar gum recipe found on the main recipe page
Ingredients
water( regular tap works fine for me) - 1000 grams (ml)
guar gum - 3 grams
ipa (isopropyl alcohol) for slurry - approx 20 ml.
baking powder - 3 grams
fairy dish washing liquid - 40-75 grams (my best results are with about 65 grams which is about 1:15 to 1:16)
Mixing
i take around 20 ml of isopropyl and mix the guar till it is fully mixed.
I add the soap and baking powder to the slurry.
Mix it well for a couple of minutes let is sit for at least 20 minutes and add it to the water.
It will work fine but as it seems a day or so will make wonders to the mIx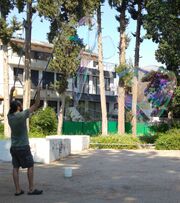 Community content is available under
CC-BY-SA
unless otherwise noted.