Some materials such as yarn and twine are twisted materials that have a tendency to twist on themselves when wet. If they twist too much, the twisting can be a problem when they are used for tri-string and garland loops. A little bit of residual twist, though, may even be helpful for closing giant bubbles.
Getting the Twist Out of the Material
Edit
There are a number of techniques that people use to get the twist out.
Glowby's Tips
Edit
Read Glowby's great article in which he runs down several useful methods.
Stretch and Swivel
Edit
One contributor recommends: It helps if you can stretch your length of yarn/twine all the way out then tie the far end to a swivel, which I attach with a bungee to a tree. I then do it the way Edward describes, with the added benefit it of the swivel helping out.
Untwisting with a weight
Edit
In an SBF post. Edward wrote:
First, a little twisting is not a huge problem. If there is a lot of twisting, you can get the twist out of the bottom string by hanging up the line with a small weight on one end. I use a binder clip as a weight. I suspend the cord and let it untwist itself. I come back 20 minutes later . For long cords, you can do each half separately. You might have a little residual twist left, but I have never found a little twist to be a problem -- it might actually help when closing a bubble off.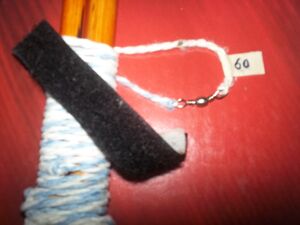 Rick Findley uses a #2 or #3 fishing swivel in the middle of his bottom string to prevent twisting. He says that there is no impact on the loop performance.
THIS ARTICLE COULD USE MORE DETAILS, TECHNIQUES AND PICTURES. THERE ARE SOME COMMENTS ON THE WIKI AND SOME OTHER POSTS ON SBF THAT COULD PROVIDE MATERIAL
Community content is available under
CC-BY-SA
unless otherwise noted.