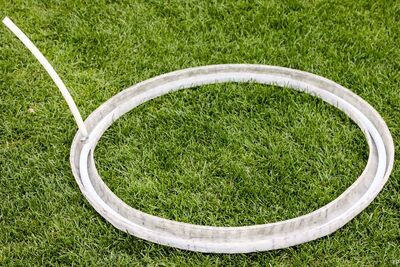 Thommy shows construction of a sturdy lightweight
Kid in a bubble
(KIB) moat. He notes: the shown hoop has a diameter of 78 cm (~31 inch). The moat's diameter (measured from the center of the moat's trough) must have the same diameter as the hoop. This size hoop is good for putting one person in a bubble. An 85 or 90 cm should make it easier to put more than one person into a bubble!
The moat's form is provided by garden hose nailed to a board and surrounded with pipe insulation.
The garden hose is formed into a circle and nailed to the board. To ensure a circular moat, use a simple makeshift compass by hammering a nail into the center of the board and using a string and pencil to draw the circle
For the mold I used pipe insulation. It comes as 1 meter pieces and is made of extruded PE closed-cell foam . I cut it to the desired shape using an electrical bread cutting machine . This served for a nice and uniform cut.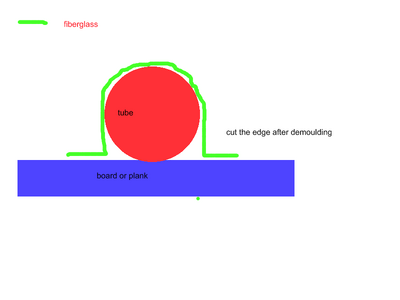 Alternately, as shown here, it is possible to achieve the same profile with round insulation to if the fiberglass is laid with care.
PE is not easy to glue. So I used double sided tape to fix the foam to the board
cutting the fiberglass mesh (300g per square meter) into suitable strips.
The mold has been treated with separation wax and PVA separation lacquer and is now ready for lamination
laminating finished! I put 1 layer of a thin mesh (~100g per square meter) and had it cured for 24 hrs. Then I added 2 layers of the 300g/m² mesh
the raw deformed moat. For ease of deforming I took both the foam mold with the lamination from the board and the easily pulled out the foam.
The result, cleaned (washed) from remainders of the PVA lacquer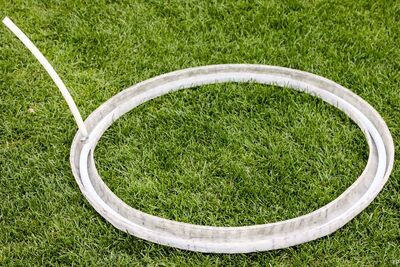 Ready with the edges nicely trimmed with a small cutting disc in a Dremel
close-up. The moat "loaded" with a hoop that is covered with medical cotton tubing.
In the meantime I prefer to use the naked hoop (just a bit sanded) in order to create less foam.
The hoop material (the one in the photo with 18mm diameter and the one I now prefer with 17mm) is tubing for floor heating, is made form multi-layered PE (but without an AL layer as in PEX tubing) which is light and easy to handle and which nicely keeps its shape.
Thomas wrote: "When using the KIB moat one soon gets a lot of foam. For me the easiest "remedy" is a short break, cleaning the hoop with a towel and burn the foam in the moat - something I wouldn't advice to those using an inflatable pool as a moat ;)"
Community content is available under
CC-BY-SA
unless otherwise noted.